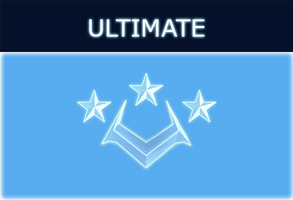 Ultimate mode is a feature introduced in the Evolved Update for Geometry Wars 3: Dimensions.
Very much like Adventure and Hardcore Mode, this mode is played across many different three-dimensional maps, featuring an even higher amount of power-ups and bizarre maps.
There are a total amount of 40 levels in Ultimate mode, along with this host of maps it also features 2 brand new game modes, exclusive to this mode and Hardcore mode.
Features
Edit
Like Adventure Mode, this mode features a large host of fully 3D levels, these levels come in many different shapes and sizes and often changes the gameplay dramatically. All of the original Drones, Supers and Super States appear, along with a few new ones introduced in the Evolved Update.
There are also two new game modes exclusive to this mode, Scorpion and Stock.
There are four new bosses, each unique in their own way, the Boss itself must be killed in order to win the level, the final score does not count whatsoever if this condition is not met.
There are a total of 40 levels and 120 stars to collect. All levels form a straight path on the map so no levels can be skipped, therefore the player must earn at least one star in any level in order to proceed, these levels are all listed in order below.
Each level has its own rules and loadouts, to learn more about a specific level, simply read its respective page.
Levels 1-10 "

Nephrite"

Level
Game mode
Star goals(points)
Level Loadout
Special notes
1. Precision
Deadline

1 ☆: 2,500,000
2 ☆: 5,000,000
3 ☆: 8,000,000


∞ Lives
1 Super
1 Bomb


Timer: 2:00
2. Deathstalker
Scorpion

1 ☆: 100,000
2 ☆: 500,000
3 ☆: 2,000,000


1 Life
0 Supers
0 Bombs


3. Futurism
Rainbow

1 ☆: 1,000,000
2 ☆: 1,500,000
3 ☆: 2,000,000


1 Life
1 Super
1 Bomb


Color Grid: 500
4. Minute Rush
Deadline

1 ☆: 250,000
2 ☆: 700,000
3 ☆: 1,200,000


∞ Lives
1 Super
0 Bombs


Timer: 1:00
5. Syndrome
Stock

1 ☆: 250,000
2 ☆: 750,000
3 ☆: 1,500,000


∞ Lives
0 Supers
1 Bomb


6. Moon King
King

1 ☆: 100,000
2 ☆: 300,000
3 ☆: 1,000,000


1 Life
1 Super
0 Bombs


7. Tic Tac Toe
Deadline

1 ☆: 2,500,000
2 ☆: 5,000,000
3 ☆: 7,500,000


∞ Lives
1 Super
1 Bomb


Timer: 2:00
8. Titan Twist
Titan

1 ☆: 1,500,000
2 ☆: 5,000,000
3 ☆: 10,000,000


1 Life
1 Super
1 Bomb


9. Gate Maze
Pacifism

1 ☆: 1,000,000
2 ☆: 1,500,000
3 ☆: 2,500,000


∞ Lives
0 Supers
0 Bombs


Timer: 1:30
10. Nephrite
Boss

1 ☆: 1,000,000
2 ☆: 15,000,000
3 ☆: 30,500,000


1 Life
1 Super
1 Bomb

Levels 11-20 "

Aventurine"

Level
Game mode
Star goals(points)
Level Loadout
Special notes
11. Horizon
Deadline

1 ☆: 5,000,000
2 ☆: 6,000,000
3 ☆: 7,500,000


∞ Lives
1 Super
1 Bomb


Timer: 1:30
12. Evo Cube
Evolved

1 ☆: 10,000,000
2 ☆: 20,000,000
3 ☆: 50,000,000


3 Lives
3 Supers
3 Bombs


13. Bullet Squeeze
Claustrophobia

1 ☆: 500,000
2 ☆: 1,000,000
3 ☆: 2,000,000


1 Life
1 Super
1 Bomb


14. Open and Close
Evolved

1 ☆: 500,000
2 ☆: 1,000,000
3 ☆: 5,000,000


1 Life
1 Super
1 Bomb


15. Bullet Chase
Stock

1 ☆: 500,000
2 ☆: 1,000,000
3 ☆: 2,000,000


1 Life
0 Supers
1 Bomb


16. Cobraphobia
Titan

1 ☆: 100,000
2 ☆: 500,000
3 ☆: 1,000,000


1 Life
1 Super
1 Bomb


17. Matador
Pacifism

1 ☆: 100,000
2 ☆: 1,000,000
3 ☆: 3,000,000


1 Life
0 Supers
0 Bombs


18. Escape
Evolved

1 ☆: 150,000
2 ☆: 400,000
3 ☆: 1,000,000


1 Life
1 Super
1 Bomb


19. Locked On
Evolved

1 ☆: 3,000,000
2 ☆: 5,000,000
3 ☆: 10,000,000


1 Life
1 Super
1 Bomb


20. Aventurine
Boss

1 ☆: 1,000,000
2 ☆: 2,000,000
3 ☆: 3,000,000


1 Life
1 Super
1 Bomb

Levels 21-30 "

Purpurite"

Level
Game mode
Star goals(points)
Level Loadout
Special notes
21. Sausage Limit
Sniper

1 ☆: 250,000
2 ☆: 600,000
3 ☆: 1,300,000


1 Life
1 Super
0 Bombs


Ammo: 1000
22. Waltzer
Evolved

1 ☆: 250,000
2 ☆: 2,000,000
3 ☆: 5,000,000


1 Life
1 Super
1 Bomb


23. Redclaw
Scorpion

1 ☆: 100,000
2 ☆: 500,000
3 ☆: 1,000,000


1 Life
0 Supers
0 Bombs


24. Love Duck
Evolved

1 ☆: 3,000,000
2 ☆: 15,000,000
3 ☆: 30,000,000


3 Lives
2 Supers
2 Bombs


25. Pacifism City
Pacifism

1 ☆: 250,000
2 ☆: 1,000,000
3 ☆: 3,000,000


1 Life
0 Supers
0 Bombs


26. Fenced In
Checkpoint

1 ☆: 1,000,000
2 ☆: 2,000,000
3 ☆: 3,000,000


∞ Lives
3 Supers
1 Bomb


27. Chaos City
Deadline

1 ☆: 500,000
2 ☆: 1,250,000
3 ☆: 3,000,000


∞ Lives
1 Super
1 Bomb


Timer: 2:00
28. Sweep Revenge
Deadline

1 ☆: 750,000
2 ☆: 1,500,000
3 ☆: 3,000,000


∞ Lives
1 Super
1 Bomb


Timer: 2:00
29. Dying Time
Checkpoint

1 ☆: 250,000
2 ☆: 500,000
3 ☆: 1,000,000


∞ Lives
1 Super
1 Bomb


30. Purpurite
Boss

1 ☆: 1,000,000
2 ☆: 2,000,000
3 ☆: 3,000,000


1 Life
1 Super
1 Bomb

Levels 31-40 "Eudialite"
Level
Game mode
Star goals(points)
Level Loadout
Special notes
31. Androctonus
Scorpion

1 ☆: 250,000
2 ☆: 750,000
3 ☆: 2,000,000


1 Life
0 Supers
0 Bombs


32. Ring of Death
Deadline

1 ☆: 1,500,000
2 ☆: 3,000,000
3 ☆: 5,000,000


∞ Lives
2 Supers
1 Bomb


Timer: 2:30
33. Nutshell
Stock

1 ☆: 500,000
2 ☆: 1,000,000
3 ☆: 2,000,000


∞ Lives
0 Supers
1 Bomb


34. The Boundary
Deadline

1 ☆: 10,000,000
2 ☆: 20,000,000
3 ☆: 40,000,000


∞ Lives
3 Supers
3 Bombs


Timer: 5:00
35. Time Up
Checkpoint

1 ☆: 500,000
2 ☆: 1,500,000
3 ☆: 3,000,000


∞ Lives
3 Supers
1 Bomb


36. Bullet Hell
Evolved

1 ☆: 150,000
2 ☆: 500,000
3 ☆: 1,000,000


1 Life
1 Super
1 Bomb


37. Squeeze Machine
Claustrophobia

1 ☆: 250,000
2 ☆: 2,000,000
3 ☆: 5,000,000


1 Life
1 Super
1 Bomb


38. Mutated
Evolved

1 ☆: 500,000
2 ☆: 2,500,000
3 ☆: 5,000,000


1 Life
1 Super
1 Bomb


39. Evo Sphere
Evolved

1 ☆: 1,000,000
2 ☆: 20,000,000
3 ☆: 50,000,000


3 Lives
3 Supers
3 Bombs


40. Eudialyte
Boss

1 ☆: 1,000,000
2 ☆: 3,000,000
3 ☆: 5,000,000


1 Life
1 Super
1 Bomb