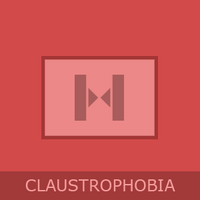 "One life... Walls are closing... Reach the target score"
—Description from Geometry Wars 3: Dimensions.
Claustrophobia is a game mode that was introduced in Geometry Wars 3: Dimensions where it is featured as one of the 8 game modes exclusive to Adventure, Ultimate and Hardcore mode.
Gameplay
Edit
The player starts with one life, one Bomb and one Super, with the exception of Hardcore Mode, where the super is excluded. There is no way to acquire more of either bombs or supers in the level itself, so use them wisely.
The eponymous feature of this mode are the closing walls that are slowly approaching the center of the level, gradually reducing the playing field available. The level will over time grow increasingly smaller and eventually only a fraction of the original playing field will be open to the player.
The two levels featured in Ultimate Mode; Bullet Squeeze and Squeeze Machine, are very different from the original formula. Instead of the walls slowly closing in on the player by themselves, they instead move closer to the center depending on the amount of gunfire that they absorb, so the player must avoid shooting the walls as much as possible in order to stay alive for longer.
Each level has its own rules and features, to learn more about a specific level, simply read its respective page.
Adventure Edit
Level
Star goals(points)
Level Loadout
26. The Scream

1 ☆: 1,000,000
2 ☆: 2,500,000
3 ☆: 8,000,000


1 Life
1 Super
1 Bomb


36. Trash Compactor

1 ☆: 2,000,000
2 ☆: 4,000,000
3 ☆: 6,000,000


1 Life
1 Super
1 Bomb

Ultimate Edit
Level
Star goals(points)
Level Loadout
13. Bullet Squeeze

1 ☆: 500,000
2 ☆: 1,000,000
3 ☆: 2,000,000


1 Life
1 Super
1 Bomb


37. Squeeze Machine

1 ☆: 250,000
2 ☆: 2,000,000
3 ☆: 5,000,000


1 Life
1 Super
1 Bomb

Hardcore Edit
Level
Star goals(points)
Level Loadout
14. The Scream

1 ☆: 500,000
2 ☆: 2,500,000
3 ☆: 10,000,000


1 Life
1 Bomb